Blend Mode Chooser - A lightweight effect for mixing video
Perhaps you've seen a similar plugin from Ripple Training. This is not Ripple Training's Blend Mode. It has more features (with less parameters) and "plays well" with Intel Macs.
While you can preview blend modes, apply those blend modes to a single clip or blend drop zone content (and "Mix" the amount of blend), Blend Mode Chooser goes beyond that in many ways.
There is a built in close up viewer to allow you to inspect each of the modes in the collection screen.
There are three additional modes that can be swapped in (over the last 3 in the screen).
You can specify whether or not to include the original video as part of the blend when using drop zone content containing transparency (for example: a Basic Title).
There is a Contrast control to help enhance drop zone content in the mix.
Blend Mode Chooser is an Effect. You can apply more than one to any given clip so you can continue to add multiple drop zone media to the clip without stacking Titles in your storyline.
Don't forget that there are masking capabilities built into this effect (one Color Mask and as many Shape Masks as you need). In the Demo below, the opening sequence uses a color mask on the model's skin tones with Invert Masks set to exclude her skin from the blending effect.
The blend mode labels are always visible, no matter what. There is no Text Color parameter necessary in this plugin.
This effect performs well on older Intel Macs (the demo video is from a 2017 iMac i5) and performs well without the need to render for playback (with other effects "piled" on, like color correction, and more than one Chooser applied.)
Show Modes: on be default. Displays the default set of blend modes (16 total) in a grid.
Extended Blend Modes: switches in Hard Mix, Difference and Exclusion into the last three modes spaces on the screen.
Close Up Viewer: turns on the Magnifier effect to allow you to see a mode at four times the size of the grid view.
Drop Zone: used to apply media to be blended which can be video, an image, a Title or a Generator.
Blend Mode: used to set the type of blending between the drop zone media and the original clip — whatever that might be 😉 Use this instead of the Compositing Blend Mode selector.
Mix: is basically the opacity of the Drop Zone over the background media.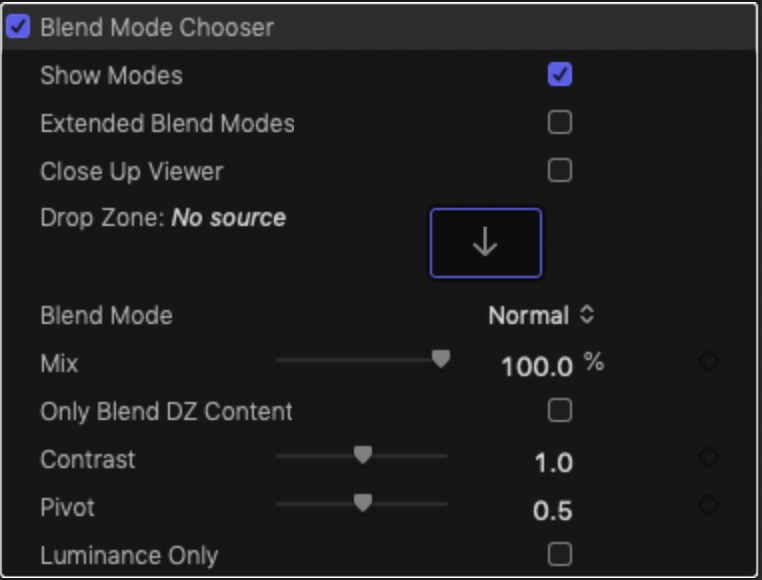 Only Blend DZ Content: If you have drop zone media that contains any kind of "alpha" (transparency) then a "copy" of the original background media will be used to fill that alpha channel and the effect is that the original background clip will be blended with itself as if there were no drop zone media (a default behavior). Selecting this option will keep that media copy from blending back with the original and treat the drop zone as a completely separate entity.
Contrast, Pivot and Luminance Only: are three basic parameter controls for Contrast. For a description of Contrast, please see this entry in the Motion User Guide.
Keep up to date with Sight-Creations on Twitter.
A good place to see all of my effects as well as several tutorials and other demonstrations in use is on my YouTube channel.