Description
Highlighter 2
An Effect designed for Titles
Highlighter was designed to create customized text decorations like underlines, background color, etc., not for the entire text entry, but for selected segments or single words. For example:

Highlighter was designed to be used with the Basic Title. Basic Title has no background source. Many titles include a *copy* of the storyline (more factually, the accumulation of everything *under* the title object) with the background source. You will be able to tell because it changes the behavior of Highlighter somewhat. Choose your titles carefully.
In testing Highlighter, it became apparent very quickly that it was far more powerful than its original design. Check out the videos below for ideas.
If you have Photoshop skills, creating compound effects will work well for you (and be a lot of fun!)
The download includes three Effects Presets — pre-built layered instances of Highlighter to create an "iPhone 6", a generic "tablet" design, and a onscreen graphic background (used for the feature image background — apply it to a Solid Color with the color set to yellow.) Also included is the Highlighter Spark (glint) effect used with the News Sports Weather Basic Title. The Highlighter Scale Rotation effect can be used to manipulate the source media or text when used first, or the entire compound effect if used last in the applied effects order.
An Effect designed for Video
New!
Along with Highlighter 2 effects there are now included two enhancement effects: Highlighter – Alpha Fringe Tool and Highlighter – Alpha Trim.
Highlighter has proven to be a very effective Chroma Keyer (any color you want to select with the Effects Masks > Color Mask) and if you have difficulty removing the fringe, apply the Fringe Tool (an enhanced spill suppressor), and if you have trouble matching the edges with a background, apply the Trim Tool as well. There is an About Highlighter Expansion overview document that accompanies the Expansion download.
These two tools, although designed for Highlighter, can be used with any other effects that apply. For example, you can use the Fringe Tool and Alpha Trim with Keyer (or any other effect that cuts "holes" in your video!)
Use Highlighter to place objects behind your greenscreen subjects without adding separate clips to your storyline!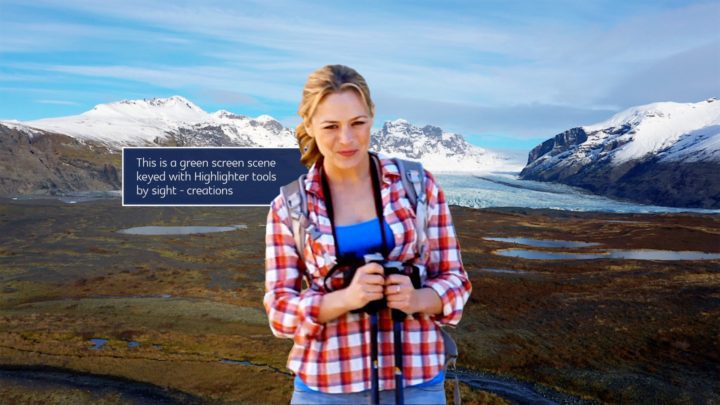 Installing Effects Presets:
Effects Presets are installed in your User (Home) folder / Library / Application Support / ProApps / Effects Presets /. Add these *after* you install the Highlighter 2 effect.
*If you want to be able to use the Effects Presets, you need to install the Highlighter effects into /Motion Templates/Effects/FCPXTemplates/. Otherwise, if you prefer a customized installation, open the .effectsPreset files in TextWrangler or BBEdit. Type Command-F and Find: FCPXTemplates and for Replace, the exact name (case-sensitive) of the Category you installed Highlighter into. Click Replace All and Save the file.
---
Highlighter – OSG Background demo: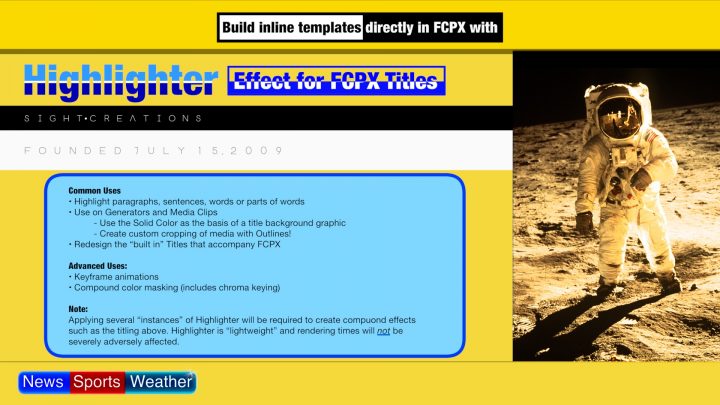 ---
Highlighter Tablet and Highlighter iPhone effects presets demo:
---
How would you use Highlighter?
---
Demo of Highlighter Scale Rotate provided with this product:
---
User Guide: