Final Cut Pro Plugins | Templates
All plugins/templates work on M1/M2 Macs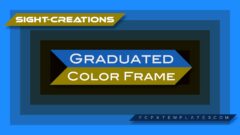 Create 3-Dimensional space for your content! Graduated Color Frame is to be...
Be sure to check out the Downloads page for free templates that are fixes or upgrades to templates provided by Apple with Final Cut, or special requests from Apple Support Communities issues. For example, there is a "jerkiness" at the beginning and black edges that appear in the Flashback Transition that comes with Final Cut. Flashback Transition Repaired fixes those issues. And the default Custom Title does not end on the last frame, but my fix will!
There are currently 18 offerings listed.
Create Complex Layouts of video clips with intact audio
Legacy contribution to all those creating inspirational videos of people coming together under COVID quarantine. This effect will remain freely available (the cat is out of the bag… LOL).
SC MultiScreen does NOT use drop zones — all audio remains with individual clips. You may create as many video clips on a screen as your system will support. SC MultiScreen can be used in combination with compound clips to mix layout arrangements as well as simply creating multiple layouts for any given "stack" of video clips.
This plugin can also be used with Titles for lyric placement, subtitling, labels, etc. Create as many different layouts as you please and save them for future use as an Effects Preset. May it save you many hours of editing time!
Free plugin! The default layout arrangement: 2×2. Notice the 4 clip arrangement in the upper left corner — a 2×2 layout in a compound clip used as a single clip in a new (layered) MultiScreen effect.
Especially useful with setups like SC Multiscreen (but can be used with any other effect. (Follow the Instructions included in the download.) Ultra-simple labelling for clips.
[This plugin effect will remain free for as long as SC Multiscreen is free.]
Shows all the various layouts and several options. All positions can be customized. Auto Fade In/Out controls available.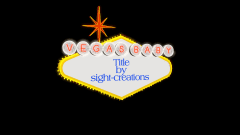 Vegas Baby User Guide A Title for FCPX The iconic Las Vegas Welcome sign was designed...
Friends and places to visit:
FCPXTemplates.com is the "storefront" for Sight-Creations (the d.b.a. for F. X. Mahoney a.k.a., "Fox" Mahoney) since Nov. 1, 2013. There are also galleries of some of my work, a few online tools like the Motion Template Backdater, and several blog entries.
It's difficult to have to do everything involved in maintaining this site on top of developing plugins and templates, so the blog entries are a little more sparse than I would like. I have been creating Motion templates for Final Cut Pro since 2009. Many of the first templates I created for Final Cut Pro X were originally made for FCP 7!
I do not believe in creating "themed" assets — you know the type: 24 different variations of the same template for you to choose from. Why waste that much space on your hard drive? My templates are designed for a wide latitude of options so that you can create your own variation from (in most cases) a single template. I'm trying to save you time, not waste it by making you pick and choose what will probably not be exactly what you want!
I am very involved in customer support. It is very important to me that you can use my products for what you need. If it is determined during support that you cannot use my templates, either from compatibility issues or they are "just not right for your needs" — I will refund your purchase. Support is on the main menu!
I would like to recommend that you do yourself a favor and purchase the Sight-Creations Essentials bundle, or at least, Highlighter 2. They will grow on you! The more you use them, the more valuable they will become.
I hope you find what you're looking for! Come back often!
Due to circumstances beyond my control, I haven't had time to write more articles since the last one.