A 3D Textured Effect for FCPX
Note:
This effect uses a custom font (ZZSCMonitorScreen-Regular.ttf included for free) in order to provide a genuine 3D texture effect. This font is provided with the download and must be installed prior to use. FCPX must be restarted if it was running during font installation.
Painted Canvas is an uncomplicated effect with plenty of latitude to customize its appearance. Initially designed so that all you have to do is dial in the amount of paint strokes you want applied… If you're not averse to keyframing, you can animate this from 0% to 100% or any value in between.
There are parameters to set how many paint strokes to make, which corner the paint strokes build in from, an option to "shuffle" the orider with a randomizing feature.
Scaling the brush strokes with Scale Randomness allows you to create nearly infinite variations. There's even a Random generator to regenerate the random scaling.
There's are built in Saturation and Value controls and parameters to grow or contract the expanse of strokes as they are applied.
Painted Canvas requires installing a font (supplied) and uses real 3D Textures for the effect.
This effect will work on any aspect video, although you may need to change the Spatial Conform to Fill for some clips that wouldn't have filled the viewer anyway… or leave the clips letterboxed.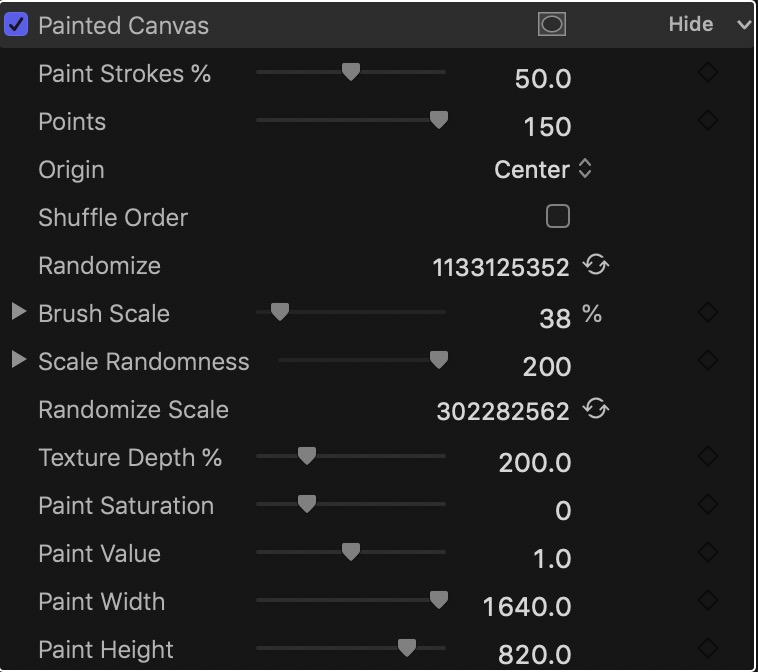 By default, this effect is set to paint on 50% of the strokes to create a decorative card. Paint Strokes % can be keyframed to animate the painting effect but is not necessary.
Points is the number of paint strokes total (displayed at 100%).
Origin allows you to set where on the screen painting starts.
Shuffle Order and Randomize are best used to change the order in which paint strokes are animated when Paint Strokes % is keyframed.
Brush Scale and Scale Randomness allow you to change the dimensions of the brush strokes which will help cover the canvas quicker if the number of Points is small. There is a Randomize Scale button to remix the scale randomness at will.
Texture Depth is set for 200%, which is about optimal, but you may want to raise it to make a stronger effect, or lower it to 0 to flatten the effect.
Paint Saturation and Paint Value allow allow you to emphasize or de-emphasize the video clip image (convenience). The extra texture will sometimes make the clip appear a little darker and you may want to boost the value slightly to compensate.
Paint Width and Paint Height allow you to expand or restrict the coverage of paint strokes.
Keep up to date with Sight-Creations on Twitter.
A good place to see all of my effects as well as several tutorials and other demonstrations in use is on my YouTube channel.