Days Between Dates — Count the days from... between... until!
Easy to use!
Date entry is as easy as click and type a number. (Leave times as 12:00:00 AM for the  most accurate count).
Simply select the part of the date you need to change and type in the number value entry. You can tab to the next value as you go. Shown is selecting the month, typing in 1 for January, tabbing to the days, typing in 1 then tabbing to years and typing in 2022.

Onscreen values are immediately updated.
Immediately after the Date entries there are Add to Start and Add to End parameters that allow you to adjust the Day count from the Start and End Date values. This is a convenience if you want to animate the start and end dates for you video, as a counter, so to speak.
You can change the date formats from Short (11/11/11), Medium (default: Nov 11, 2011), Long (November 11, 2011) and Full (Friday, November 11, 2011).
You have a selection of Fonts to choose from including scripts.
Size applies to font size for the dates and day count only, the labels are a fixed size and can be hidden altogether with Hide Labels.
Dates Width % is the screen span of the layout of the text parts. Width is predicated on a 16:9 video format. You can use Padding H to expand the background to fill any size.
Padding H and V allow you to customize the background size. Fill Color and Opacity allow you to change the color and transparency.
There is a small selection of Blend Modes available, one being Stencil Alpha. You can use this to fill the background space with anything you like by placing graphic content under the clip using Days Between Dates.
And OnScreen Control and Position parameters help in placing the effect in your scene.
Days Between Dates has access to Effects Masks (Color Mask and numerous Shape Masks) which can be used in various creative ways!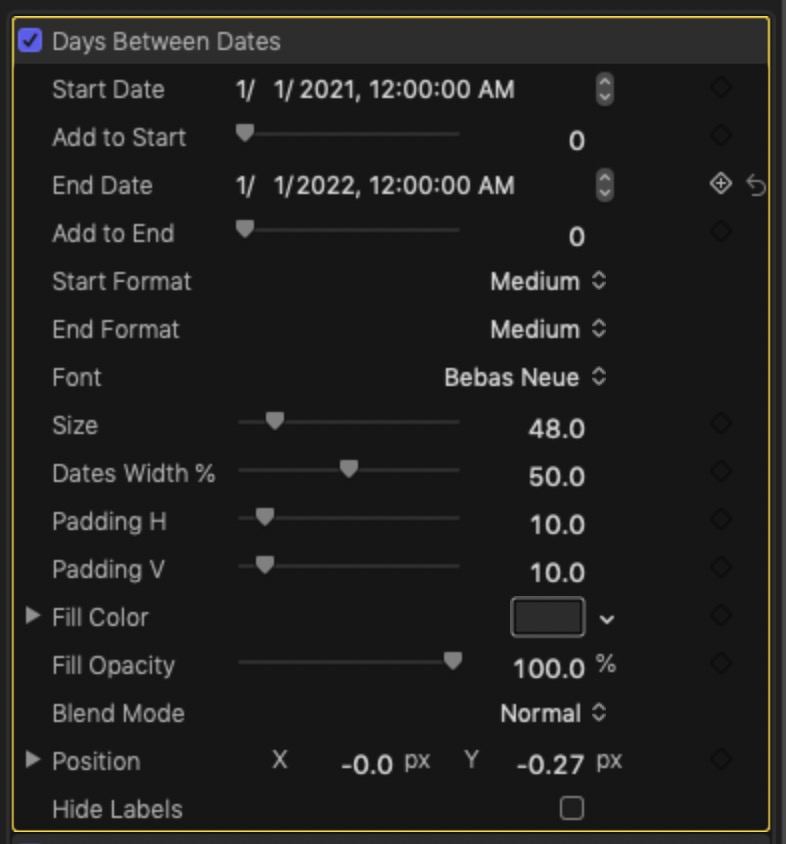 Keep up to date with Sight-Creations on Twitter.
A good place to see all of my effects as well as several tutorials and other demonstrations in use is on my YouTube channel.