Cross Dissolve - Subliminal and Color
There are two transitions included: one with text (Subliminal) and one without (Color) which is provided if you don't need to use the text for any particular section of your video.
Subliminal defaults to "Like Subscribe Ring the Bell" for YouTubers. Just select the font, size and position it using an OnScreen Control.
There are timing controls for the appearance and disappearance of the text. Make the message as short as you like. Timing defaults to the entire length of the transition.
Both Transitions default to a Fade Through Color of Black with a Text Color of White.
Easing is applied to the Fade separately by Incoming clip and Outgoing clip.
If you organize your fonts in Font Book, the Collection will make finding your specific fonts easier to find.
Default font is DDT — it is part of the "FCPX collection" of fonts installed with Final Cut.
The rest of the parameters should be familiar.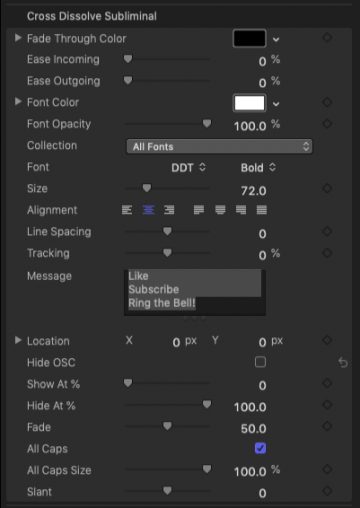 Keep up to date with Sight-Creations on Twitter.
A good place to see all of my effects as well as several tutorials and other demonstrations in use is on my YouTube channel.