BPM has plenty of variation built in.
BPM is built to last 5 minutes (longer than most music). If you need longer, it is possible to add it to another adjacent clip.
BPM can use any decimal accuracy needed. Often, you will want to cut the beat by 1/2 or 1/4. Odd values will require decimals!
There are three shapes to choose from: circle, square, and heart.
The beat animation paths can be Triangle, Sine, Sawtooth and Square.
The Playhead/Mark Time is an onscreen display of the "minutes" into the clip indicating the values you would use for the playhead positions needed to start and end the animations.
Color and Opacity (may be keyframed.)
Shape Position also has an OnScreen Control for easy placement.
Size allows for quite a lot of scale.
Size Change is the amount shape changes over the animation.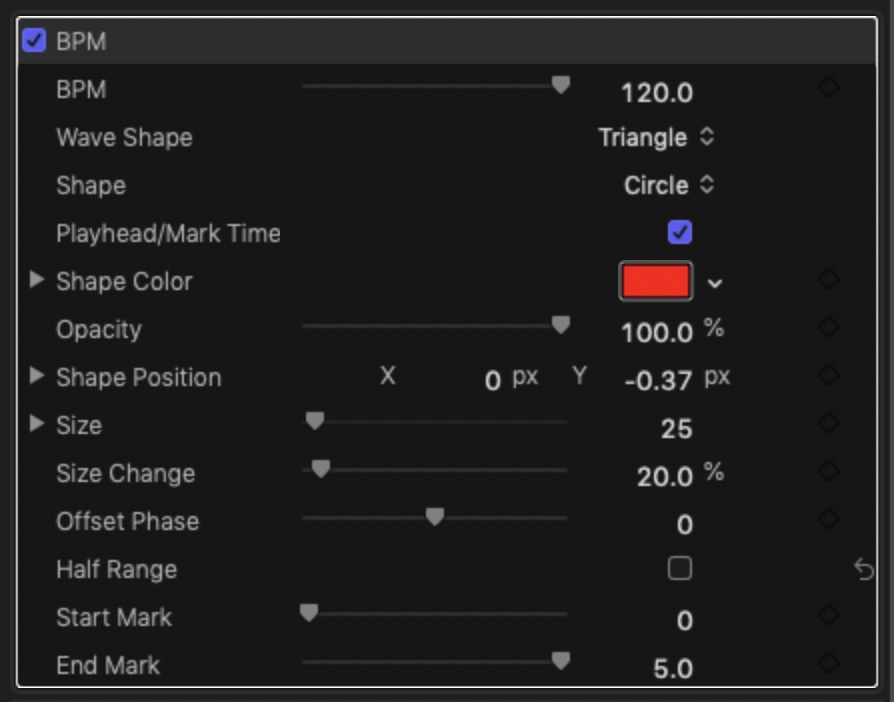 Offset Phase can be used to align the animation with an actual beat when splitting animations over several clips or titles.
Half Range will double the speed of the beat (by only using 1/2 of the waveform — square wave shape won't work with this.)
Start Mark and End Mark are the minute times to begin or end the beats.
Keep up to date with Sight-Creations on Twitter.
A good place to see all of my effects as well as several tutorials and other demonstrations in use is on my YouTube channel.