SC Guides

User Guide



SC Guides 3

is a Title for FCPX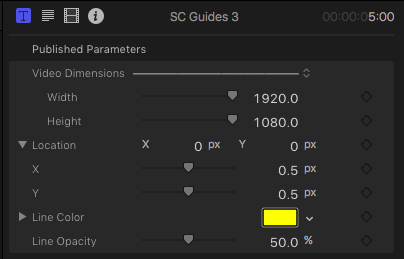 This is a simple tool. It is designed to help you place or align objects at specific locations in your video. It is also designed to work with any resolution up to 9600 x 9600 (and a little more).
In FCPX, some of the default resolution settings are not all "square" pixels. For these resolutions, there will be a slight discrepancy in the Video Dimensions parameters — the adjustments are easy to make to correct the values displayed in the Viewer.
You begin by supplying the video dimensions (1920 x 1080 are the default).
There is an OnScreen Control (the larger one) with the guidelines attached which can be controlled in the viewer or by manipulating the Location parameters (X and Y). You will notice the values are decimal values between -0.5 and 0.5 for the top values and 0 to 1.0 in the disclosed values. You can use either set of these values for precision placement of the gridlines (sometimes manually controlling the OSC, especially in downscaled views, makes it difficult to achieve the position you require). By holding down the Option key and dragging the mouse on the values up or down, you can get fine tune control of the gridlines.
The last two parameters allow you to customize the line color and its opacity.
When you're done positioning or aligning your objects, select the SC Guides title and type the 'v' key to disable it, or simply delete it.
If you need help installing this template: https://fcpxtemplates.com/install4fcpx/latest.htm
---
Follow Sight-Creations on Twitter and Facebook.