Snapping Title - Complex title arrangements with perfect alignment
This is a Basic Title with built in snapping and guides!
Use this for Bullet Lists and other creative title arrangements.
Default snapping grid is set to 72×72 but this is completely adjustable.
To create a line that you can slide text across, simply set the H Step Size to 0 and every pixel is available.
Grid is always from the center outwards.
Show Guides will display a horizontal and vertical line intersecting the assigned "center" of the Title text. Options are "Left", "Right" and Center on X (which is the point based upon the text Alignment setting).
Show Spacing displays on screen the H Step Size and V Step Size (as a convenience — and it's easier to read than the parameter list!)

Guides can be used to place other graphic elements aligned to the text.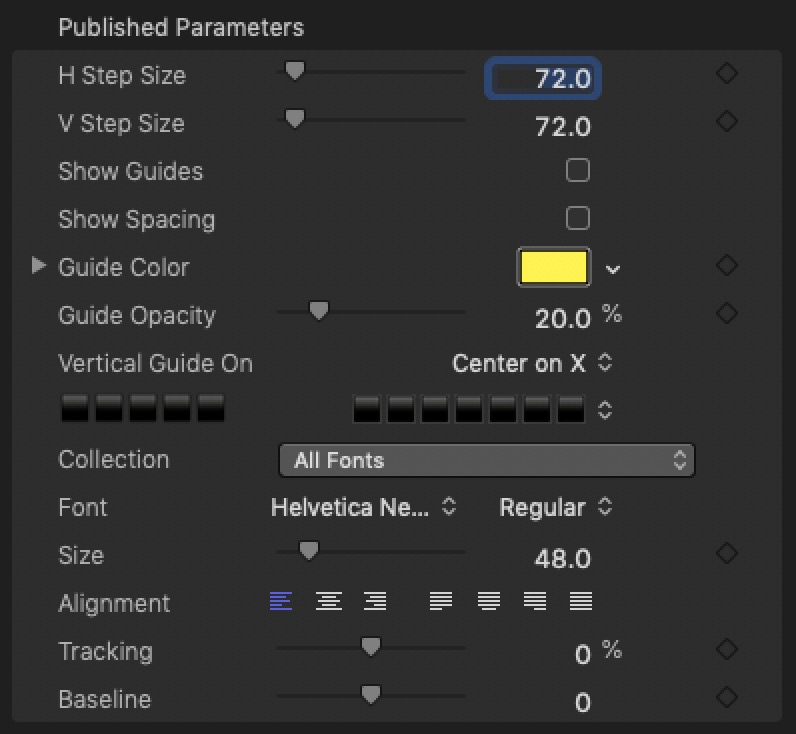 Text parameters provided at the bottom for your convenience. If you organize your fonts in Collections in Font Book, you'll have access to this shortcut here (not available in the Text Inspector!)
Add Snapping title to your storyline. Leave the default text at the center of the screen.
Set the Step Sizes to the desired settings. Use the Guides as an assist to "pre-flight" the spacings.
Set the Font characteristics and set the text of the title.
Drag the text to the desired starting location and turn off the guides.
Option-drag a duplicate copy of the title. Drag its text to the next snapping point and edit its text.
Continue this process until you've completed your layout.
Use the optional guides if you need to place other content, like images, etc., to your layout.
Keep up to date with Sight-Creations on Twitter.
A good place to see all of my effects as well as several tutorials and other demonstrations in use is on my YouTube channel.